Hot off the heels of a story about a mother who was asked to cover herself with a large napkin whilst breastfeeding in Claridge's comes a staged protest outside the establishment which saw around 25 mothers breastfeeding their children in front of the luxury hotel, yesterday.
The gripe, or gripe water, was simply this: women should not take their tits out in public. Or at least, that was Claridge's breast efforts at explaining the hooha. What transpired though, was a rather less savoury turn of events.
The mother who sparked the protest, quietly eating her lunch at the hotel and nourishing her baby at the same time, was clearly well covered. What you notice from her Twitter timeline, where she posted a photo of herself feeding her baby, is that you cannot see any nipple, or flesh.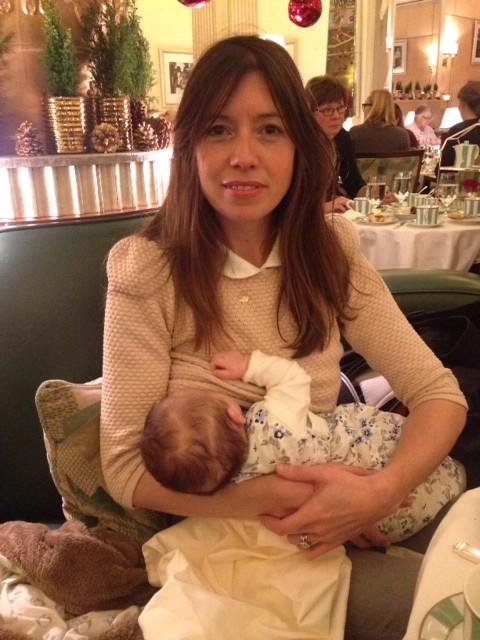 Now, when we first heard the story, we thought, fair enough. The hotel is not asking the mother to stop, or to leave – just to feed discreetly, and whilst we are of the view that breastfeeding in public is perfectly acceptable, and we are quite happy flashing bits of our own flesh, being considerate to those around you is never a bad thing.
But this is clearly not what is going on here.
Although the law makes it clear that it is unlawful for a business to discriminate against a woman because she is breastfeeding a child, many establishments can and do try to intimidate women into taking their baby duties elsewhere. The old napkin ruse in just one way – sometimes, hotels and restaurants will ask you to sit outside the dining room and return when you are done.
Establishments like Claridge's are filled to the brim with old-school prudes who would rather not eat their Duck A L'Orange and feel aroused at the same time, or who simply can't bear the sight of their own bodies let alone someone else's. And these prudes are regulars, regulars who pay to eat at overpriced and overrated establishments like Claridge's. That is why women who breastfeed are asked to cover up, and nothing more.
If you're still not convinced, check out this tit for tat scenario. Whilst Claridge's takes a dim view of mothers feeding their babies in their restaurant, they seem all too happy to let half naked celebrities walk in. Take Margot Robbie, for example:
Or, perhaps, model Carla Delevigne:
And then there's Megan Good, with her goodies hanging out:
And how about Ola Jordan – or should that be Areola Jordan?
So what do all these boob-bearing celebrities have in common that our breastfeeding mother doesn't? They all provide Claridge's with media coverage and the chance to make some serious money.
Having read the news items on this story over the last 48 hours, we are in no doubt that there is a serious double D standard at play, and Claridge's, who have yet to make a formal statement on the story, will have to issue an apology for their foul play. Ironic that such a publicity seeking outfit, craving as much exposure at it can get, comes across all coy and asks mothers to cover up.